STRENGTH BEHIND BEAUTY
Exxa merupakan wahana internasionalisasi dan perluasan bisnis untuk kelompok perusahaan yang tersebar di seluruh Indonesia dan seluruh dunia.
Sebagai perusahaan investasi terkemuka yang menyediakan rangkaian investasi yang lengkap untuk multi-industri di Asia dan Pasifik, Exxa menjamin kualitas layanan unit bisnis strategis (SBU) bagi para pelanggannya. Pembangunan berkelanjutan SDM terampil dengan sistem manajemen yang up-to-date mampu mempertahankan pencapaian puncak yang dicapai oleh group Exxa di arena global.
Saat ini Exxa mengelola investasi di bisnis alat berat dan pertambangan, perdagangan, rekondisi, industri penyewaan dan pelelangan, serta mengoperasikan bisnis jasa hingga saat ini. Exxa percaya bahwa bisnis dan investasi secara alami senantiasa terjalin. Manajemen yang baik akan memastikan keduanya saling menguntungkan. Melalui bisnis dan entitas investasinya Exxa memberikan advokasi serta konsultasi untuk unit-unit bisnis strategis lainnya, dan juga bagi perusahaan lain, serta membantu mereka dalam mengelola investasi mereka dengan cara yang baik.
HOW TO BUY ? / Bagaimana Membeli Alat Berat Di Exxa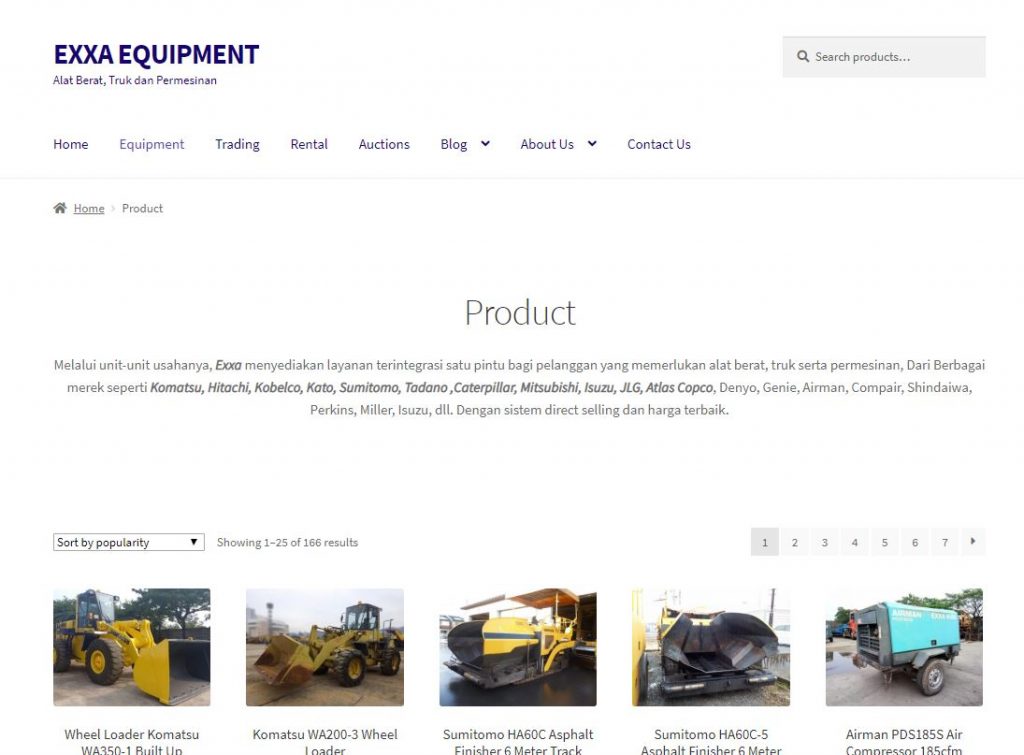 Check Equipment on Exxa's website / Cek Alat Berat yang kamu butuhkan Di Website Exxa
Please look for a Equipment that matches your needs from Exxa's website. 
kamu bisa mencari Unit yang sesuai dengan kebutuhanmu di situs web Exxa
Contact us when you  find the Equipment / Hubungi kami ketika Anda menemukan Unit yang dibutuhkan 
Confirm the condition about the Equipment by phone, Whatsapp or e-mail.
Konfirmasikan kondisi tentang Peralatan melalui telepon, Whatsapp atau email.
*Should you have any questions, please do not hesitate to ask us.
Jika Anda memiliki pertanyaan, jangan ragu untuk bertanya kepada kami.
Sales & Marketing 
Hp/WA 1 : 0812 8741 4224
Hp/WA 2 : 0811 3991 6100
Exxahire Menyewakan Boomlift / Manlift :
JLGJLG 660SJ 20 Meter
JLG 80HX 24 Meter
JLG 860 SJ 26 Meter
Sales & Marketing
Telp. 021 – 5591 6100
Hp/WA 1 : 0811 1896 100
HP/WA 2 : 081287414224
COMPLETE CUSTOMER CARE
We will support you like no other
EXXA dealers offer a variety of customer support agreements and work
with you to develop a plan to meet your specific needs. These plans can
cover the entire machine, including attachments, to help protect your
investment.